Tabs Available... Keys to this "Wonderful World".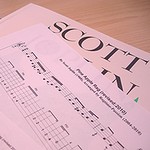 For every one wants to play my arrangements, here some are ready FOR SALE. However, please read documents below for your help to get. Beside, I hope you to forgive that the list of arranging will be on going ALMOST FOREVER ; including the status of sale, the number of tunes, etc. Some new tunes will be uploaded or become ready for sale, while another would be off for various reasons - like going under my revision, claims of copyright, etc.
ANYWAY, THEY WILL BE YOUR KEY TO THE WORLD OF "MODERN RAGTIME GUITAR SOLO"... if you want.
The List of Tabs
Attention Notes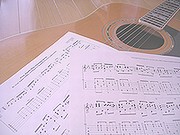 Truly saying, all pieces are not easy to play; for myself, for example, not a few pieces are difficult to play over without any stop, or they still make me perform very slower than proper tempo. So, just before you purchase a sheet, I recommend reffering to the next details - "Challenge Level". This small guideline will help you for what to buy or NOT TO BUY... ;-)
Read details...
The list of tabs - being renewed gradually in 2010.
On the next page (with link below), you can download to review the NEWEST list of tabs of my works. Please read also the guideline, before you imagine what to choice.
Read details...