Stories behind the Video... written in a Blog style.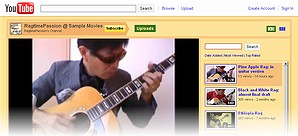 One of my main works these days is posting playing videos to my own channel on YouTube, with the purpose of introducing my arranges and the joy of Ragtime Guitar - especially "Classic Ragtime". On this page, you can read some storied behind the video performances, just like in a Blog style.
Old writings now put into the Personal Archives - NOT National ones. To read them Enter HERE.
This is really magnetic - "Magnetic rag"
Preface - before the 100th years of Joplin's death
2017 is the 100th anniversary year of Joplin's death... whose fact had made me decide to record more rags of Joplin this year - while just having noticed another fact that NOT SO MANY rags of him I had posted ever...
Honestly, I had arranged this wonderful rag at first in 2001 - 15 years ago! - however, some parts was not easy to play at that time, so I'd almost gave up to perform. Then last day I just watched a video on YouTube, where a man playing this rag ON the HARP... that's really good and wonderful, what also made me encourage and decide to try again with faith and belief.
Arrangement
To try again, there would be needed some guidlines to re-arrange befor performing and recording.
to make easier - playability first, musicality second
to play not so SLOW - however, possible speed by the guitar
to enjoy my own arrangement style as always...
Here again I'll show you some examples - to success or to fail... ;-)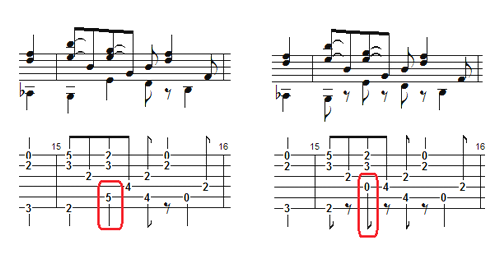 [fig. 1]
Playability FIRST...
Original bass note was played with finger, but here changed with open string.
Though the common musicality makes us to play with WHOLE quarter note, there is NO music unless we make it sound... so, I've just prefered to play easier to sound securely. Without this type of re-arrangement, I could not play all this rag as fast as recorded.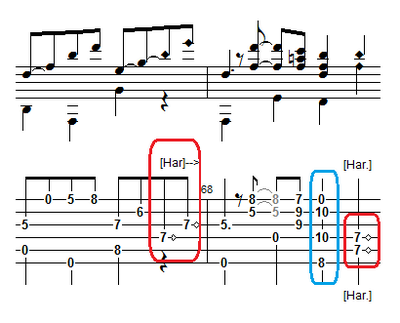 [fig. 2]
Harmonics and Open strngs for "Pedal effect"...
Both containing unique color of sound, here they used ALSO for some playability.
Piano players often use "Pedal effect" just as the notes keep the sound after his fingers released from the keybord. I often use these technique of fig.2 for this purpose - rather than the colors of sound.
Analysis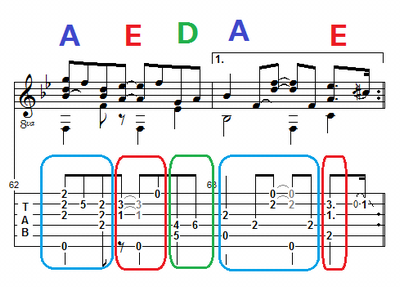 [fig. 3]
Chords would be simpler than his early works...
You can find "familiar" guitar form on the tab-sheet. This would be one certain reason because I could play this rag faster than my other arramgements ever.
On the way of trying this rag, I'd asked some of our members of Japan Ragtime Club - How could be more complex or simpler this rag technically than his earlier works? Not a few piano players might support my impression, however, most of them think NOT EASY to express the WHOLE tune beautifully...
I often wonder if this rag could show a kind of (another) "Milestone" on composing he had been marching in his life - Details are simple and familiar but whole structure and society of notes is constructed with "Beauty of dynamic and complicated movements", just like the life and country he had been living...
Another type of Rag or Raggy music - "Turkey in the Straw"
Preface - why this?

It is true that on writing this arrangement down, I've got some references to an arranged work of "Peacock Rag" by John Renbourn - which had just recorded for myself a few days ago. Finished that posting to YouTube, I wondered as if John had picked this fiddle tune for his own arr., I could make ALSO some another song added to my repertory.
Here in Japan, it is "Turkey in the Straw" that may be the most famous fiddle or country music tune, because often used to take and listen as an accompaniment of some social dance - entitled "Oklahoma Mixer". Having been trying for a week, finally I had made my arrangement up and recorded... ;-)
Arrangement

Well... a special gift of this time is PDF sheet of this arrangement. You can download it, clicking a PDF icon. / *Please use only for your own guitar play for fun.
So, here I simply list up some idea, inspiration and licks to play... ;-)
Intro. : an imitation of Fiddle violin's funny lick.
Grace notes : also imitations of Fiddle violin.
Measure #19 : an unique chord and ragged irregular time from my own inspiration (maybe.)
Performing solo : owed a lot to GREAT John Renbourn... ;-)
Measure #55 : a kind of Boogie style I often play for myself.
Coda : this type of melancholy feeling comes from Ragtime.
Recording
This was the 1st time using Full HD format... surported by some new gears like; Windows 7 PC with 4GB memory, Licenced version of the video editting software, (cheap) Degital camera - NOT iPhone camera, however, still used my iPhone5 as the 2nd camera...
Memories in Ragtime come - "Through The Bottomlands"
Preface - for some passed memories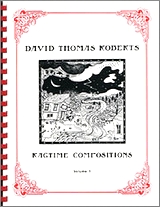 While having tried a ragtime composition by David Thomas Roberts - "Roberto Clemente" EVER, I honestly felt another might be realized almost NEVER... that is, too difficult to arrange them without losing his essential beauty - especially with MY approach toward arranging - "Closer to Piano on Guitar".
On the other hand it's been true that his music often made me remember some of my passed memory - especially on hearing this impressive work "Through The Bottomlands", which had called the both impressive images; one is an older friend who really loved Ragtime and David's works but sadly passed away last year in the land where I also passed my younger age, and another belonged to the world of my arrange - to play this beautiful tune on the guitar by the end of my life... if possible. Fortunately the time has come in this year, 2012, and I have just finished this memorable challenge - with some various ideas by chance... ;-)
Arrangement
Honestly saying AGAIN, while never being sure enough of myself to finish this arrange to the end, I just had some key-ideas of possibility UP MY SLEEVE before start.
to use the electric guitar available
to use the harmonics if possible
to use octave down as musical variation
So here with some examples I simply show how they came to success... and/or ended to fail ;-)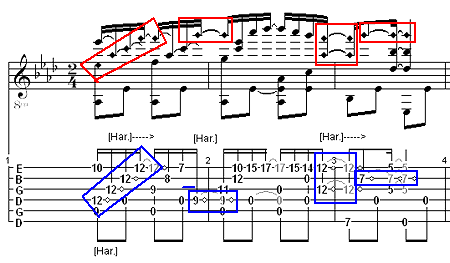 [fig. 1]
Lots of Harmonics available...
Impressive beginning with a kind of "row of harmonics", while usually applied to the top note of phrase, if possible.
103 harmonics notes are used in my arranged tab sheet - while on the video, some are omitted or failed to ring. At first I had a plan to use the electric guitar to realize the high notes, which are used commonly in this dynamic composition, because of the easy playing with cut-away shape of the neck 's joint to the guitar's body. As a result, the 1st idea was put on hold toward the guitars and amp I have - all guitars are solid body like Les Paul, Strat and SG - whose sound could not fit to what I had imagined even if using the trick of "Amplifier modeling"... however, this omit made the most important key point, No.2, advanced; the typical example is indicated as the figure above, what finally made up my mind to decide and start arranging this ragtime composition - what also meant my dream could be true... ;-)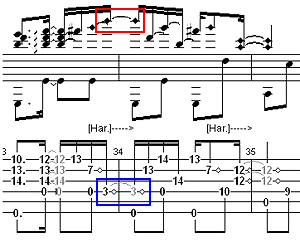 [fig. 2]
one of the most challenging ones...
While also used in "Roberto Clemente", the harmonics on 3rd fret is incorporated this time in more complicated phrase.
On the performance, however, often replaced with the normal tone on the 17th fret because of my fingernail's condition for picking the string - which deeply relates to make the harmonics sound clear.
Most harmonics are used for replacing the higher notes to play easily, as the fig. 1, on the other hand, it includes the intension to make a surprise by the tone change. As you see, using the harmonics may be more difficult instead of playing normally in this case...
While the former sections seem to be filled with a kind of intellectual beauty by the complicated organization of note, the middle "Trio" turns into some natural beauty by the flowing change of harmony - like an unruffled surface of the river. Here shows a sample below;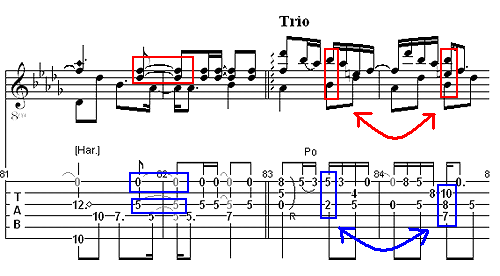 [fig. 3]
A typical dimension on GUITAR arrange;
Used the open string effectively on the former point, intended to make its clear sound alive.
The later indicates another example - same musical note on another string.
Again and again asked and tried by myself "How could be played this phrase by what position and fingering form", then I have finally selected the play shown in this arrangement as "Final answer - but present". The reason and purpose to think over is that the easy playing which makes the comfortable sound should be taken priority over the difficult playing which makes the reproducibility, especially in this section. This choice seems to be in success, because I myself always feel lots of comfort on playing this part - as if landed to where full of PEACE on some heavy road... ;-)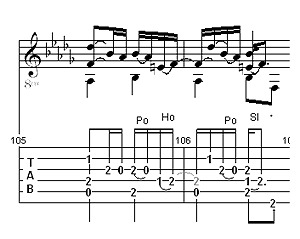 [fig. 4]
Still needed another idea UP MY SLEEVE;
Made one octave DOWN for the guitar play, while the original piano version takes UP for the repeated variation.
However, the range of musical tones here fits well for this 6 string instrument, which always has an octave lower middle C than piano - Don't you think so?
Written as caption, this is "the 3rd trick up my sleeve"... ;-) Adding a peaceful humor to the music, like The Beatles often did, I planed this wishing someone who knows the original piano version could grin here... ;-) On the other hand, the example below includes my clear intension to offer some musical variation that'll be fit well to the guitar play.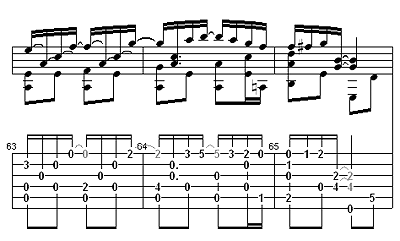 [fig. 5]
This could show another progression in future...
If possible, this playing arrangement may be introduced as "Beginner version" of this composition, where may be needed another section could be omitted almost wholly...
Recording
This was the 1st time using HD cameras to rec the video, however, not "Video camera" but "iPod touch"... anyway I hope you enjoy the video, even if it seems that the guitarist gets fat slightly but gradually... ;-(
My first COMPOSITION - "Ragged Spring Time (coming)"
Preface - why I tried this...
My latest and first "Ragtime Lecture Live" with Mr. Takashi Hamada was one of the objectives for me to achieve in the whole music life... so, "What comes to the next?" was what I wondered then, however, in mind just having occurred another new one; "Composing a Ragtime piece".
Honestly saying, this has been a major theme to me for more than 10 years - both as a guitarist and a transcriber of great ragtime composers, from Scott Joplin, Joseph Lamb to Bob Milne, David Thomas Roberts and so on... ;-) But it has NOT been a "child's play", as you know, especially after my long experience of having arranged lots of great compositions by seniors! Perhaps I could hardly do it without the new trial I had challenged in the beginning of this year - OWN ARRANGEMENT, which would work as if "Prelude" to enter the world of composition, now I suppose.
And here I modestly add the tiny fact of having given my word to Mr. Hamada to achieve this theme in this "spring time".
Trying to do this and that - how my mission going...
My composition might not be a kind of magic of true genius - or rather, a kind of fruits of what I've been studied for almost 37 years with my guitar ;-) I'd like to reveal here some of my musical secrets as inspiration, while I hope you would also suppose another side as perspiration to mix and complete lot of pieces into one music. Additionally for this latter work a computer software that I love to use for my arrangement has been doing a lot, especially to review the whole composition - so, here again I thank not only for all great seniors of Ragtimers but also for my tool TablEdit.
There might not be a faith or reason to be (packed into) Suite; just for my fun time to play them consecutively - or, "Serenade" may be a little bit short to be played as a single tune. Instead, in "Fantasia" I had just omitted to play usual repeats of Ragtime style, especially for your tolerance to listen till the end of 10 minutes' performance... Thank you for your Sitzfleisch!
"Fantasia"
Title comes from that of old classic - like John Dowland.
Whole atmosphere may be affected by the famous movie - Mary Poppins, a curious personality ;-)
Tonality in B flat is important for me to express Ragtime mood - even if using Capo for that.
Whole structure is influenced a great deal by that of Joseph F. Lamb.
However, as a guitar music I often utilize Harmonics here there and everywhere.
In the trio section may appear another curious personalty of the Japanese famous comic - a temporal favorite these days; Nodame's boscage.
In that boscage I planted some of my own Flowers of Rock, some shown below;

"Serenade"
An original inspiration might be Chopin, although never could be like him...
Whole feeling is truly suspended from that of Saudade - a nostalgic feeling often used in Brazil, here shown as a kind of Bossa Nova's chordal style - however, keeping Alternating bass is a key to be Ragtime guitar.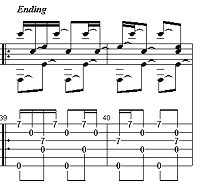 This final rhythmic pattern represents my tribute to Scott Joplin; while being very simple, not so easy to play with fingerpicking... ;-)
By the way, I often imagine that Ragtime might be a musical style, not only to be listened but also to be played by yourself, even though you have not the piano but the guitar... so, I modestly present a complete Tab sheet of this musical sketch into a "FREE sample" zip-file below... ;-)
"American Polonaise"
Also this inspiration comes from Chopin, especially "Heroic" - here again never could be like that...
So, while suspended from some spacious image of such "Grand Polonaise", I settled a whole chordal structure into a simple style of 3 major chords often used in the guitar music, except for the mid part of the 1st section;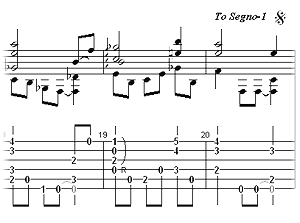 At the end of mid part you may hear a kind of strange minor sound like an asian taste... honestly saying, I had imagined the atmosphere of introduction of "A Real Slow Drag" in "Treemonisha" just on composing.
And the 2nd middle section is, as you know, inspired by; 1) the mid part of Chopin's "Heroic", 2) a typical bass riff of "Boogie Woogie" piano style - so that is a reason of the title named "American" Polonaise... ;-)
Please try to play some excerpts - if you are a "guitarist"...
As wrote before, I often wonder Ragtime would be the music not only to be listened but also to be played... So here I present a packed Zip-file of "Sample Tab sheet" for your trial, especially included a full version of "Serenade", which is rather easier to play than others.

Download a zip file (270KB), clicking a PDF icon and... Have a nice picking!
To get a completed Tab sheets of Suite, read Tabs Available, and CONTACT me... ;-)
My first own arrangement - "Beautiful Dreamer with Ragged style"
Preface - why I tried this...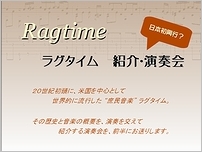 Thanks to Mr. Hamada - one of the best Ragtime Guitar players around the world, I will join his concert in Nagoya with honor, as a guest guitarist, on 16th of March in 2012.
Being as a Ragtimer, now I have a plan to do my task in a kind of "Lecture Concert" style for introducing the audience to the whole world of Ragtime - not only musical performance but also some lecture about its history, musical style, famous composer, and so on.., what is my longing!
On making a presentation program for that, I wondered how I could introduce the major character of Ragtime - Syncopation - in what way to the audience. While remembering my past performance in which I had played this song with NO SYNCOPATION in melody - "Beautiful Dreamer" by Stepen C. Foster - introducing its difference between ragged rhythm style in word, an new idea occured me this time; if this song could be played with syncopations in Ragtime style, is it much easier to understand the difference, besides to enjoy the real taste of Ragtime itself? So I tried with some curious wonder that the ancient Ragtimers in old time might have been playing their ragged music in this way... ;-)
As a FAITHFUL RAGTIMER - how I tried this...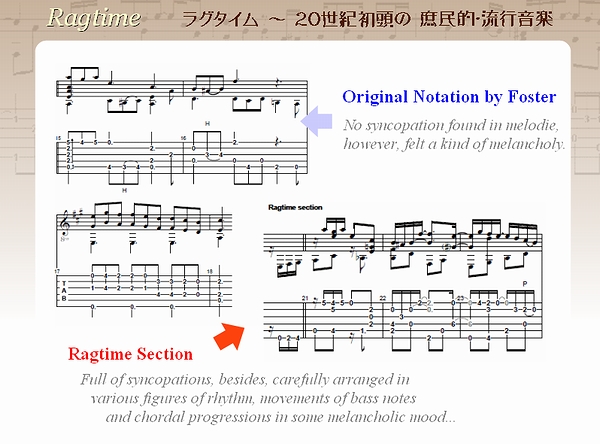 [fig] An excerpt sheet of the presentation of "Ragtime - Lecture Live"
I suppose it will be better to show this sheet at first... because this is what I'd like to show by arranging and playing this song ;-)
While the great composer Foster picked up the Afro American's melodies and/or melancholy to his composing with some sympathy, he might have left the rhythmic taste behind, which would seem to him being belonged to another world far away from his classical and well-behaved manner, I suppose. So, now instead of him I picked them up again and added to the melody, paying much tribute to another great American composer - of course, Scott Joplin - by thinking and taking his characteristic manner of composing. So, I hope such concept of mine will be shown in the comment on the sheet.
Lastly adding is that I had been trying to incorporate all what I was and am learning from Joplin - here especially from "Maple Leaf Rag", which I've been playing for almost 10 years, and where still learning something new... ;-)