Behind the video - Archives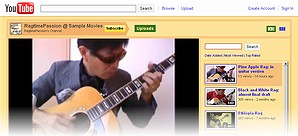 Here include past articles...
Enjoy them in your spare time ;-)
Back to the privious page with the munu above, please.
Memory to the Modern Rag & Basaball player - "Roberto Clemente"
Preface - how I found this trial could be done.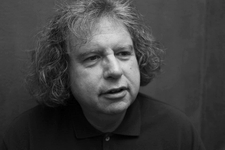 Honestly, I've not been quite familiar with the whole music of David Thomas Roberts - the composer of this beautiful rag tune - as Takashi HAMADA do, who must be the very innovator about him, his music and the arrangement of his rags on the guitar. Besides, while another ragtime friend around me - Mr. Muromachi, whom seems to me like a "Young Sherlock Holmes about Ragtime", had often recommended and asked if I would arrange his compositions, I modestly hesitated that they might be sounded as "impossible" with my talent and manners... however, to arrange his music would be one of my dreams both as a guitarist and ragtimer ;-)
One day a new friend, who asked me about my tab-music to get, sent a sample of copy of his most favorite tune - this "Roberto Clemente", to ask if I could arrange it SOMEDAY... While at first thinking almost impossiible, on being checked again in manner of my arrangement I found it could be... moreover with some possibility to add another beauty inherent to the guitar itself. Then soon I started, not only to arrange it but also to order its music folio formally to David himself... ;-)
Arrangement
[Note] Figures of music score here are limited to use for your easy-to-understand. Sorry for my poor ability in English - too difficult to express in Non-native language what I'd been thinking over ...

[fig. 1-a]
One sample of basic structure
Basically, this rag could be defined as "Polyphonic rag" - you can see how the voices are running effected each other with perfect harmony; however, whose harmony often passing into a very short dissonant blink due to a ragged rhythm, that is "Syncopation" - I sometimes wonder if this modern discordance, between Classic and Jazz, could be one of spells of Ragtime music...
Anyway, here you can see how the inner voice moves being stayed in line of the top melody [A], what next turns into a modesty sympathizer [A'] making a descending line, whose last B note is played by the melody instead of inner voice at last.
Of course the importance of bass part in the left hand cannot be missed - it starts simply like the standard rag of Joplin [B], however, soon it comes again repeated in the half rhythmic pattern [B'], what also completely harmonized with the melodic part in the right hand... ;-)
If all these made in some other musical key, I would have given up arranging this rag, but quite fortunately in D key there be - what is often used and familiar on the guitar, especially more effective with "Low D tuning" used; changing the tuning may be one of the very advances of this musical instrument, I suppose. While easily decided to drop the 6th string into D note, I had to give my faith of arranging theory to realize all that shown in this beautiful music itself with enough care and dignity as much as possible... so you could see some of examples below.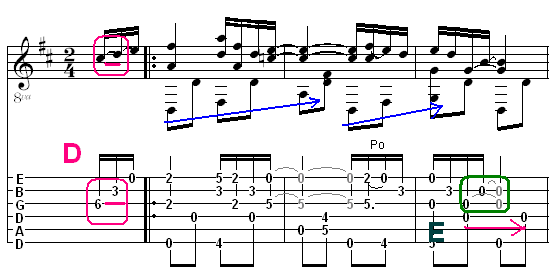 [fig. 1-b]
Arranged score on the guitar
Easy to see that I have replaced most important parts into the arrangement while some changes and omissions need. All what I've done in this arrangement are almost as same as what I'd already shown in another chapter of this website... so, now in this case I'd like to comment modestly some of my another thoughts about the guitar music.., or else "a characteristic beauty on the guitar".
The very typical example is showed at the very start of this tune [D]... usually this each note of melody is played as a single note, however, I treat both two notes not only as a "quick harmony" but also a "quick dissonant", daring to put each note separated on two strings, 2nd and 3rd, to make a chord. I wonder that while this harmony could be done easier technically on the piano, but not so done musically - I suppose the whole notes could sound a little bit much more dirty on the piano. On the other hand these 2 or 3 notes are played here as a kind of "arpeggio", what could make a wondrous atmosphere with a quick modest disharmony, I feel.
The reason why I do this might be a feeling that I'd like to start this beautiful rag with some small speciality on the guitar even if it has NO introduction, in other words, I'd like to treat this part as a kind of "catchy introduction". Additionally it could be done with my small wish that I'd like to prove a characteristic beauty of the guitar; an instrument makes notes kept modestly long and decayed - hope my play could sound like so on the video... ;-) In the next paragraph I could show another example to share this anatomy.

[fig. 1-c]
How the composer wrote this;
All examples might be regarded as "Different ones".
Which is true... ?! While the first one is equal to the original, how could we treat the rest - should we regard as "Not a few differences" "caprice by player and/or by composer" "variations in estudio" "output/proof of the discretion in composing"... As an arranger of the CLASSIC ragtime guitarist in MODERN times, I'd like to act myself in the manner of LAST expertise... EVEN THOUGH I cannot always treat such a concept faithfully both on arranging and/or playing, besides quite feel that it is important and joyful for music to play on Ad-lib with variations, paying enough attention and tribute to the original work.
Additionally saying this concept might be cultivated in my work of arranging Joplin's ragtime. To exam how he did WRITE the music for himself in the music sheet may be one big interest... and what we suppose could be included more or less in "School of Ragtime" - an outlandish work by Joplin, what would still be a kind of enigma...
Fortunately being in the same era, we can ask about this modesty interest to the composer himself - I'd like to excerpt his words on my Facebook with his permission;
Yes, tiny variations are a significant part of my approach to writing rags and other essentially non-developmental, strophic pieces. Chopin set the stage for this practice, especially with his handling of the waltzes and mazurkas; but it has always seemed to me a naturally enriching part of composing.
Fortunately again here I can replace this first form in the original sheet into the complete re-emergence on my Tab-sheet, thanks to the lots of help with the both open strings of 2nd and 3rd [in the green pat of E; fig. 1-b]. However, a purist may point out that "So you must keep the exact gate time of note on the upbeat as 8th note, NOT IN 4TH GATE TIME [as the pink arrow of E; fig. 1-b]" To tell the truth I may be a "cherry-picker" - sometime yes but other-time no; actually in this case, if the whole sounds are comfortable to be heard, I let some notes keep ringing along - what might be rather more comfortable than any other strong sounded instruments THANKS TO the modesty and decayed sound unique to the guitar - as I've written above... ;-)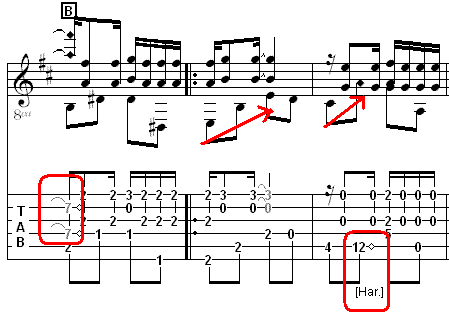 [fig. 2]
Adding my taste by the guitar;
the beginning of the 2nd section.
On the repeated time I dare not to use this pre-harmonics in bridge if you notice or not... ;-)
After the long analysis above, here show some of my own tastes... "Harmonics", which I love ;-) While the original notes which are impressive as the bridge to the 2nd section, are played as harmonics for impressive effect, another harmonics on the bass could be used as a kind of "fiddled bass note" in my words - that is, while this bass note sounds much higher than those melodic notes musically, it could give some impression much lower by using lower string... besides it could sound long enough without any finger to keep on - economic!? On the other hand several bass notes are intended to changed into a kind of "walking bass line" as if stepping up with some fun... ;-)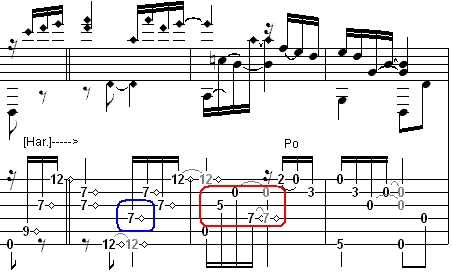 [fig. 3]
A highlight; after the 2nd section back into the 1st as if D.S., never used by David himself - maybe as a realist in the music description.
So, here I'd like to give my own advance in his approach - "with some musical change when the section repeated"
Not a few guitarists would imagine this part sounds as if the famous guitar tune by John Renbourn - "The Hermit" - link to a short sample of MP3 on Amazon - ... Yes, I love it and of course under his effect... ;-)
Here again thanks to some help and luck most tones in melody are possible to replace on harmonics, while I've just preferred a lower tone, marked in the blue box, for easiness to play... on the contrary, I proactively apply a kind of discordancy by some decayed vibrancies on the strings with arpeggio in the red box above.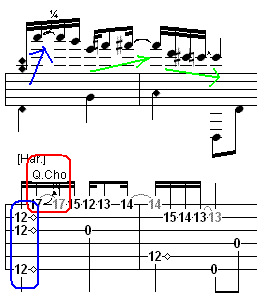 [fig. 4]
Another highlight; the very last peak of the tune.
The variation in repeat is represented in the original piano score. To find differences carefully had been my another business... ;-)
May this represented another mission in my whole guitar arranging-life - to use "Bending". Here used this technique not only for eliminating a difficulty of fingering on the very high position but also for radiating a feel of "nostalgia" or "saudade (in Brasil)"... I'm so happy if you could feel so! Again the harmonics is served well for the support of tone duration.
The origin of this mission is AGAIN in the brilliant play of John Renbourn - "Goat Island" - link to THE VERY SAMPLE of MP3 on Amazon; ACCIDENTALLY you can hear the very point just before the sample is decayed!! Since I first heard this play at age 16, it's been in my mind all along for my re-play someday... ;-)
Another tribute in color - for Roberto and his team.
As knowing this rag is a tribute for the great American baseball player, I also wanted to express my own tribute in my own way... that is "clothing" on the video, as I do often.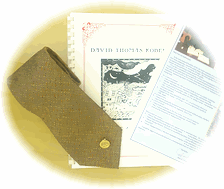 Honestly saying, at first I'd thought to wear the cap of his team "Pittsburgh Pirates". At last I gave it up because of mismatch toward other clothes in my usual classic style, however, I had choice of the coloring of the team, that is "Black and Gold", which could fit my taste in a vintage cloth style with adding some cool but luxurious feeling...
For the golden item, I selected a tie of "Charvet" - a historical and luxurious shirt and tie maker in Paris, what I got at very low price in an Outlet of "United Arrows". The small pin badge on the tie in this photo is of the certification of ISTO, another tribute for my poor talent...
Well... at last of this article I'd like to send lots of thank to; David Thomas Roberts, Takashi Hamada, Muromach & Uchida and all who watched my video and read this long writing!!
Under the affection to Ragtime - "The Sheriff by ELP"
Preface... with some excuse
Truly saying, this song may not be "Ragtime" completely, while including a very fantastic piano ending in Ragtime style. I believe, however, unless one of the composers - Keith Emerson, who is well known as "ELP", were "aficionado" to the old American music - often played "Maple Leaf Rag", never be born this excited "Rock" song... ;-)
So, here I'd like to try to express my affection to both of these music, especially through my play and arrangement in which I had paid much respect and care for the original piano play.
Arrangement
[Note] Figures of music score here are limited to use for your easy-to-understand.

[fig. 1-a]
Introduction
(original)
Played with some overdubbed by the organs and piano, here shows a single score because there may be less differences among them. On the other hand there may be some of differences between this and my tab-sheet below, because I had used another band score to arrange, which was included in old "Keyboard Magazine" in Japan.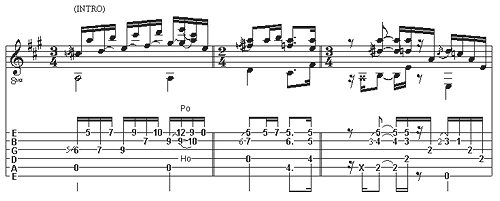 [fig. 1-b]
Introduction
(arranged)
Easy to see that I have replaced the melody higher in one octave, not only for the easy playing but also the better impression to be heard. While I added some finger techs for expressing some lighter touches of the keyboard's notes, I dared not handle the melody too tight nor cut with staccato nor hand's mute, because I should play and let the music flow ONLY for myself without any help of other players... like Lake and Palmer!!

[fig. 2-a]
Solo part
(original)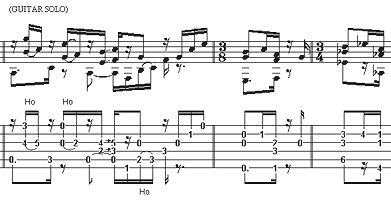 [fig. 2-b]
Solo part
(arranged)
Always feeling VERY HAPPY to play this solo... even on the guitar ;-) I suppose this wonderful part was not "played ad-lib" but "composed" in advance - just found a live recording on YouTube played as same as the original solo. While paying my tribute to Keith, I had changed various parts as seen here, to handle the notes for a kind of "player-ship" much better on the guitar. Besides, I added some inherent techs on the guitar, like Harmonics, Glissando, Vibrate... except for Bending - now I just think it may be possible somewhere to use!

As something special for readers, a short excerpt is AVAILABLE HERE... Enjoy it to play!
* Free-Download with the right icon (PDF 100KB); Copyright of arrangement is reserved.
Performance, as One Man Band
One new challenge is "Singing with playing", and recording both videos and sounds... with Dancing actions?! Being one of my favorites among ELP's song for over 30 years(!), I had been vague in the lyrics - so it must be hard to understand what I'd sung in English - if it were recognized so?!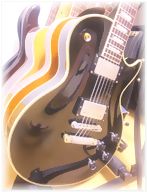 The electric guitar I used is the very first one I've got - almost for 30 years I've shared, what my father had presented me rewarding my long play with a poor guitar like toy! This gear was made by "Tokai" - Japanese maker, popular among amateur musicians at that time, because of lower cost - this was about 600$, however, the sound is good enough for me as you've heard.
Being jean-wearing for another tribute expressed, I dared not to wear directly on the naked skin as Keith did; on this T-shirt printed the score of Mozart, hard to see unfortunately.
Well... hope you enjoy all of them, even if having not been well performed ;-)
The Modern Ragtime - "Peck Peck Song" & "Mimi"
Preface... with regards
My latest videos may be seemed as examples of Ragtime tune, being composed even in modern times. Because of some unique taste of both composers, however, you would NOT regard them as Ragtime, while I'd like to think that they could not be heard as they are UNLESS Ragtime were born in the world... ;-)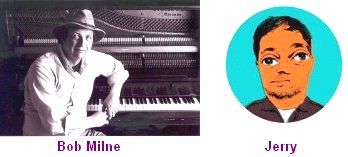 Anyway, I'd like to say here "Thank you very much, and hope to see you someday (again)" - besides, hope they also enjoy this writing like a kind of description... OK?
You can see the composers... on Facebook!
It's Jerry Time!
Bob Milne
"The Peck-Peck Song"
"Song by Jerry from the Emmy Award-winning Its JerryTime.com. Please visit the Its Jerry Time Youtube channel for the original soundtrack." - just from the description by himself on YouTube. Listening with the original video, you may simply think this is a kind of Cartoon song.
For its simpleness on the chordal structure, I prefer the simple standard tuning. The original tune has a vocal line, so I'd like to play just like singing, while it has a Piano Solo in mid-section.
One of the interesting tastes may be appeared here in changing into the minor key, however the original solo is ended with a simple musical break, that would be seemed for me rather difficult on the solo-guitar to express its change of melodies between of the instrument and of vocal.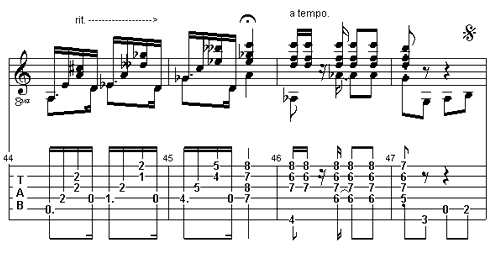 So I added my own taste, as a kind of "Bridge" as you see in the left figure - with the sequence of diminished chords ended with a popular rhythmic pattern... Hope this could be well going, for expressing the typical atmosphere of Ragtime ;-)
"Mimi"

Very impressive the flow of the melody is... ; I prefer one special tuning, a kind of OPEN C, to play this part flowing. I feel and find some melancholic feeling at the A flat note appeared here, just like that in the 2nd part of "The Entertainer", what might be one typical character of "Classic Ragtime" - I suppose ;-)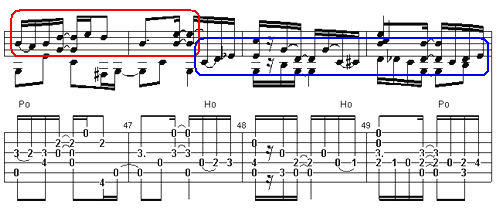 In this 3rd section it appears "Boogie-Woogie" feeling, especially in the lower notes stepping chromatically with some little breaks and syncopations. Also I love to play this contrast between the high (red) and low (blue)! However, lower melodies are generally difficult to play on the guitar - so I add some top notes for expressing the chordal mode. Besides I use the capo to let the sound heard a little bit more higher despite of using the original key "C" for arranging.
Clothes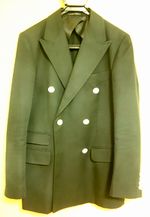 A jacket of cotton material by United Arrows Green Label, one famous speciality store and merchant in Japan. You can find some details of "British style" in specs. Well... I feel rather difficult to translate the rest writing in Japanese page, for those who live out of a kind of modal totalism in Japanese suit style?!
"Something Doing" by Scott Joplin & Scott Hayden (1903)
Preface... about another Scott.
This rag is one of the collaborative works among Joplin and his musical students; about Hayden, please check the site by "Perfessor" Bill Edwards.
It was the arrangement for guitar duo by Lasse Johansson that I listened this ragtime tune at first. And now on his website, you can see the whole great works about Fingerpicking and Ragtime Guitar, including tablatures for Free download... You NEVER miss it!
How did he write? - How should I write?
I had first arranged this rag in 2001; at that time I didn't have much more impression than the feeling like "Not so difficult to play". Having passed just 10 years, it was still the very first reason that I prefered this rag for my next posting - not so difficult. Under my habitual practice these days I did plan to revise my old arrangement and started to check the original score in details... then I found some possible traces that how the composer - must be Joplin - had paid his attention to WRITE the music.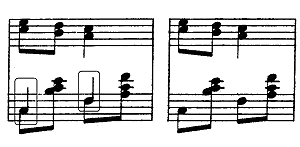 In the 1st section this phrase appears 3 times, but the detail is not the same as you see the left example; however, I cannot imagine the example of the former could be really played with single left hand of popular player...except for Fats Waller, who are said to have a big hand like a bunch of bananas!
I suppose that Joplin - not sure but may be - might regard his composition as the imaginative and creative work which must be separated from the real play, like the lute works by J. S. Bach. In the book "King of Ragtime" by Edward Berlin you can see some testimonies about how did he REALLY write the music; he composed "on paper" rather than "at the piano" (ex. on p103).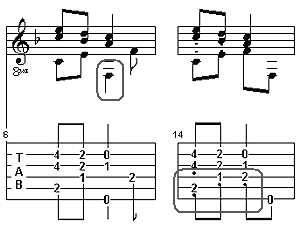 It could be difficult to replace the original idea on the guitar, so I have tried to realize it as a kind of "Playing Variation", which is used to take up like "ad lib" with changes of rhythm and/or notes, etc.
To tell the truth, however, in the video on YouTube I have failed to realize this variation to play AS WHAT I WROTE... I had my performance "ad lib" as my feeling dictated... ;-)

Here is another example in the 4th section. This seems to me to indicate Joplin's tastes and his attitude toward writing music - "Marching Onward" with and/or for SOMETHING NEW DOING... ;-)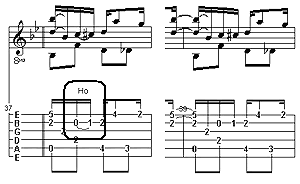 With a little luck, here I can use the finger technique - "Hammering On", to express "Slur". I enjoy in fact these different colors of expression on playing, however, here again I let my play freely or never controlled myself coordinated on the video!
Some speculation - What did he want the publisher?
Though the last example might show a simple mistake about "Typo" or "Engrossment", it could sometimes make me think over one eternal question about Joplin's life - Why did he change the publisher SO OFTEN?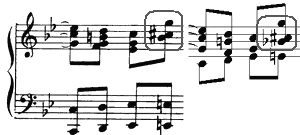 The left one is the original score, and the right is my arrangement; I think the flat is needed for B while the natural is put before. Of course no one knows the mistake had been belonged to which party - Composer or Publisher? However, I wonder if one of the composers who could have an ability to use "Double Flat" to express the recognition of tonality might have this type of easy mistake... ? If did it the publisher, what did the cautious and nervous composer feel, especially who are said that he "would not finish one piece without stopping to make changes and work thing out"? ("King of Ragtime"; p81)
Of corse this could be some silly speculation, however, even if I were Joplin I would hope my own work - in this case "The Musical Sheet", which had been the only popular medium to express for masses the music with his talent and ability - could be exact and beautiful enough, especially in such era when the score writing used to depend not only on one's real hand, but also on the mind and idea of publisher... ;-)
"The Alaskan Rag" by Joseph F. Lamb (1959)
Preface... Acknowledgment
Joseph F. Lamb, one of the famous "Big 3" in the Classic Ragtime world... about him please see the link
"Lamb by Wikipedia"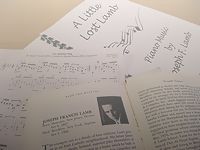 It's been a few years since I got the music book called "A Little Lost Lamb", which is published thanks to all who really love his music; Ms. Patricia Lamb Conn, a daughter of this great composer, Ms. Sue Keller, the famous ragtime pianist who runs Ragtime Press, which has published this precious music folio, and lots of others. As the top runner in this book, "The Alaskan Rag" has appeared again since it was known widely as the centerpiece in "They All Played Ragtime" 3rd and 4th editions.
Here I thank all who exerted themself to publish this rag again, and the composer himself... ;-)
As "New Dimension" for myself
Uploaded the performance on YouTube one ragtimer has commented me "suit the guitar"... SO DO I feel! Truly saying, I had intended by this arrangement - before and while playing - to express a kind of NEW DIMENSION, where I could advance myself in the both ways of arranging and playing.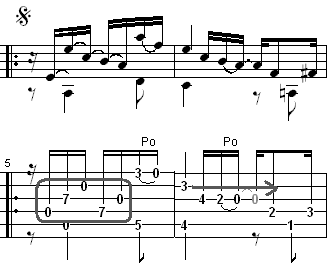 This very 1st theme is a part of the "revision in 2011". I think we ordinarily play this type of melody as a linear sequence of single note - so did I before. Even if right or wrong as a music theory, here I try to play like this; a kind of "Chordal Melody with reverberation", like a Harp style.
I could have some polyphonic feeling by this, which might suit the character of this instrument - Guitar, and so that I often use this technique also in Bach's music... VERY maverick maybe ;-) Anyway it is HAPPY playing with this harmonic sound, not only for me but also for the guitar, I feel.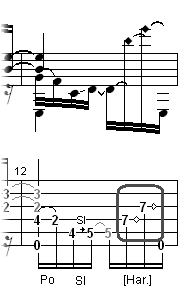 Did My style make ooze! Although I really love the technique and sound of "Harmonics" as written in "the Guideline of Arrangement", here is a very special application you could see...
While I don't know how I did make this idea occur myself, the vague image was appeared in my mind when arranging... I wonder it might have fallen from Alaskan air, like "Aurora" ;-)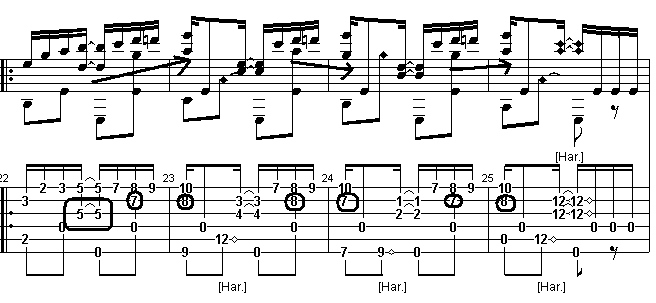 This part is the very NEW DIMENSION for me... at least out of my guideline of arrangement; that is, NOT reducing BUT adding the notes to the original music, whose notes and line are marked and indicated above. I wonder if this idea may have its origin in the way of playing the guitar rather than the music theory.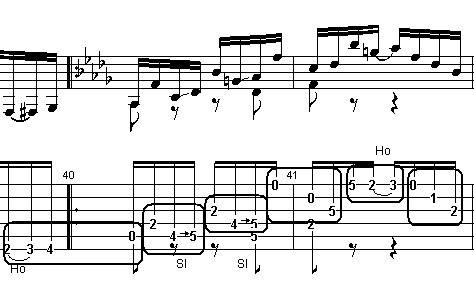 In the interpretation in performance here I treat 3 notes as packaged, which could make a whole phrase sounded like "Secondary rag" or "Polyrhythm".
Besides "Slide or Slur" are used to make the fingering easy; this technique could be useful in much more arranges where I feel difficulties.
Finally I had the 4th section repeated in the YouTube performance, because I simply found my interest and fun to play this strong sequence of syncopations. I feel in my mind a kind of "Rock spirit" in this part... ;-)
"The Entertainer" by Scott Joplin (1902) : Chordal progression
Back lot, like "Backless"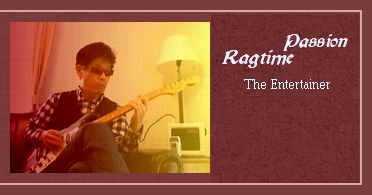 Of course, the left picture is an easy imitation of the LP "Backless" by Eric Clapton, which was released in 1978 when I was 11 years old... When I had an idea of using an electric guitar on the video for the first time, soon this jacket cover was occured in my mind. I suppose there may some reasons; A new amp - "Vox mini3" and the set of sofa with lamp - much smaller than those of Eric!
On the musical background, honestly saying, there is another imitation - or inspiration about this unique arrangement... that comes from the BGM of an English comedy drama - "Mr. Bean"; an acoustic guitar arrangement of the famous theme in the episode "Tee Off". If interested, you could find some unofficial posting on YouTube... anyway, I've been having an interest to play this famous rag with variations, like that of duo play, which has already arranged but rather difficult to post on Youtube with dual divided recording!
About Instruments - Electric guitar and Amp.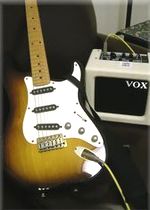 This Vox mini3 is the VERY first amp I bought in my musical life... what a big surprise in almost 35 years! Although being familiar with "Modeling tech." by "Sans Amp" in 20th century, it's a new pleasure for me to use the gear, which not only is handy but also has a real shape of amp. So, having gotta a feeling of NOT IMPOSSIBLE to play my new ragtime arrangement - Chordal progression - by the electric guitar, I started wondering; What set and sound will be better for the (video) performance? Just then I had remembered the picture of "Backless", so that *Strat was UP on this back lot... ;-) *made by SHECTER JAPAN around 1988.
Then the combination between the sound by the strat and chordal expression almost made me decide how its sound should be, especially with this back lot - "American Southern Rock" like "Layla" as for me. Being familiar with this playing style, the recording was simple and easy - just one take, and I intended to record not on line but off with microphone - in this case "ZOOM H2", for an atmosphere of Old Rock with some NOISE from the amp itself.
I wonder that after reading this episode, my video would remember you both two Mr - "Eric" and "Bean", fortunately or UNFORTUNATELY.
"The Entertainer" by Scott Joplin (1902) : Popular version
General information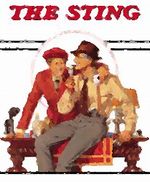 The "BEST KNOWN RAG TODAY" must be... ;-) I myself hear this impressive main melody Here, There and EVERYWHERE - on TV CM, in shopping centers, at demo play of MIDI Piano at music shops, etc. The reason of this popularity must be in the famous movie - as you know - "The Sting".
However, the book "King of Ragtime" introduces that "even during the ragtime period it received attention". For example, the publisher of Joplin - John Stark, who might be not only an easy advertiser but also a strict reviewer, wrote; All that we have ever said of "Maple Leaf Rag" is true of "The Entertainer".
Episodes : Return of the Jedi... who is this rag, not me.
I call this version as "Popular", just simply for the reason that I play on Standard Tuning... ;-) I'd like to write about it.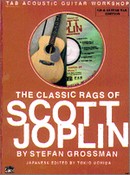 One of the well-known arrangement in Japan will be by Jim McLennan, because of a popular music book "The Classic Rags of Scott Joplin", I suppose. Of course, I also started my Ragtime carrier with this book and his arrangement, which has a kind of proper level of difficulty for who wants to try his first classic ragtime guitar.
The more ragtime I arranged for myself, however, the more detailed in original score my interest had be turned; in this case an "Octave-Contrast" of the famous melody. Not a few arrangements by great forerunners have omitted this impressive expression, because of the difficulty to perform on the guitar, I imagine.

[fig.01] Original piano score.
*you can listen MIDI made by Ragtime Betty.
While I had already arranged this famous rag in 1999, which also has omitted this octave in Standard Tuning, I suddenly noticed that using some SPECIAL TUNING might make it possible to save this contrast, helping and keeping the inherent bass line of Ragtime. After trying enough, I finally finished another one, called "Advanced version" in 2002, whose re-made one in 2010 is available on my YouTube channel.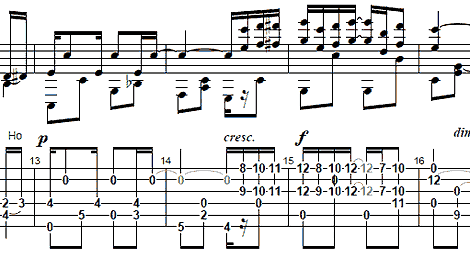 [fig.02] Advanced version.
Tuning: CGCGCE (2010), however, 6th on D (2002).
Though I got satisfied in what achieved in this part, I felt some preciosity in whole... as if "Not Popular". So, when I thought of posting a new performance again on YouTube, I decided to play my "older but more popular" version in standard tuning. However, my character again asked myself; Is it impossible to realize "Octave-Contrast" in standard tuning? I remembered the tuning in Advanced one, which takes G note on the 5th string for the low bass note in this contrast... then if I omit this low bass note replacing with the higher G on the open 3rd string, it may be possible to realize it on the POPULAR standard tuning.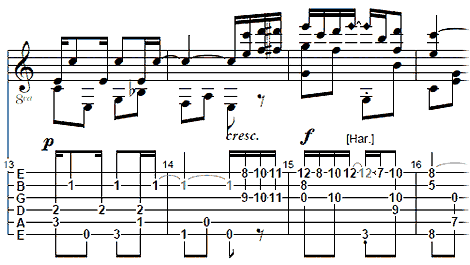 [fig.03] Popular version.
Here I almost omit one of my guideline of arrangement about "Bass line". But I manage to take the lower G, utilizing the harmonics on the top note of melody.
Despite of calling "Popular", the whole impression still may be not so popular, or rather UN-EASY. At least, however, I don't have to change the tuning for playing this most famous ragtime, ANYTIME, and ANYWHERE.
"Maple Leaf Rag" by Scott Joplin (1899) : Performance version
General information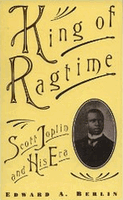 The "Maple Leaf Rag" (copyright registered September 18, 1899) is an early ragtime composition for piano by Scott Joplin. It was one of Joplin's early works, and is one of the most famous of all ragtime pieces, becoming the first instrumental piece to sell over one million copies of sheet music. - by Wikipedia.
The book "King of Ragtime" by Dr. Edward Berlin spends the whole one chapter for this great rag. Of course, it's worth while to do, however, lots of stories about this rag's history may be almost a kind of "Myth", while they are very interested to know. Dr. Berlin will tell this to you according to his own research, what is also worth while to read!
Episodes for fun... to be "Back in the saddle" again on the video.
I call this as "Performance version", since playing variations are added... so here introduce some of them.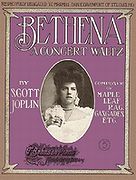 The introduction is, of course, an addition to the original - here I take up another tune famous & known for a kind of theme of the movie "The Curious Case of Benjamin Button", that is, "Bethena". This is NOT rag but "A Concert Waltz", which includes very complicated musical structure - especially in modulation. For that I had almost given up arranging this beautiful tune. But one day it came to me an idea that not full but only one phrase could be useful for some purpose - like using for Introduction... then another idea occured me that "Maple Leaf" has NO introduction, what often made me wonder how the very first note of this rag should be played and sounded in the silent background. So, I tried to arrange this beautiful WALTZ as a short & little piece for introducing the famous RAG, and for that reason it had been determined from the very beginning that the modulation should be done to the same key of "Maple Leaf".
I leverage here again the Harmonics technique to show the difference of the expression in repeated phrases.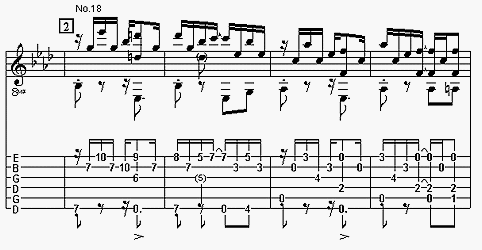 *you can listen MIDI of the left sample.
Next what may be regarded as the most interested variation will be Brake -
the contrast caused by the sudden stop of whole rhythm section - in this case, brake-stop of Bass notes. Here I omit the weak beat of chord, so what makes more clear the Bass Line, where Joplin might put his talent and innovation. With the kind of respect not only to Joplin but also to Rock music, I let the bass note do the syncopating and braking as if Rock groups often like to do... ;-) Also as performance, I had tried to do "Head Banging" in the video, but might be not going well...
Additionally saying, various harmonics are added, some of what may not be perfectly sounded... and the hat I put on - made in U.S. was bought at the outlet shop of SHIPS, just for the purpose to use in the video as a mocker of old blues man... ;-)
"Pine Apple Rag" by Scott Joplin (1908)
General information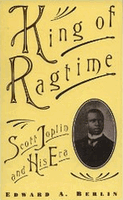 The very famous rag by the very "King of Ragtime", besides now known for the very famous movie "The Sting". Also there is a very famous (among modern ragtime guitarists) and beautiful arrangement by Ton Van Bergeyk, which I ever had enjoyed playing many times!
According to the book "King of Ragtime" by Dr. Edward Berlin, he describes as "Pine apple rag is a good candidate for success, for it is a rousing, rollicking piece", what everyone will agree! So, I had tried to perform with such a vivid live-feeling, rather than a nervous about avoiding playing errors... ;-)
Episodes for fun... to be "Back in the saddle" again on the video.
I'd like to write about "Fashion" this time.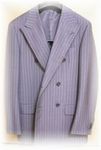 As writing in the comment of video, I would intend to dress in a kind of old fashioned style, like that of Ragtime era - the first decade in the 20th century, or of old Blues man's style. In most of historical photos, ragtimers are usually dressed in a kind of formal style, even if they liked it or not. So I preferred this time one of my most classic suit, in fact having weared only jacket with some accessories. The clothing store who made it is "United Arrows", a popular speciality chain retailer in Japan.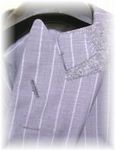 This suit is of "The Sovereign House", who produces most classic men's clothes among his other labels. For example, details in the right photo show some of the ancient tailor's techniques. The fabric is "Supersonik Summer Kid Mohair" by Charles Clayton, which may be made of traditional blend of Wool & Moheia. The shape of jacket also might be classical one - neither so tight nor loose - which makes more comfortable feeling despite of double-breasted shape.
Well... now I just imagine that the wearing variation may give another fun to the video making. So, please wait for my next video, even if I will try another special one or not ;-)